Today ladies and gentlemen, we are interviewing the interviewer: Alba the Community Manager of FXStreet. We are going to be able to take a deeper look into her dreams, passions and the improvement that she has made working with Excel. What is more, we'll discover something about her that might surprise us and also, we'll  look into more detail on her multi tasking job at the office.
Alba at work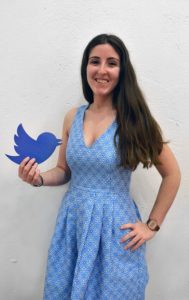 First of all, how does a day in the life of the Community Manager at FXStreet look?  
I wake up at 5:20 AM, quite British I know, because I live in Blanes, a sea town that is one hour and a half by train. I like to have breakfast, and especially drinking a big cup of coffee, and that's why I prefer to wake up early to have time enough to take the train. When I arrive at the office I check my emails and I start working on my marketing duties, such as reports and leads, because I'm Marketing Assistant as well.